by Fernelle Neptune, Ministry of Health
THE RESPIRATORY HOSPITAL CAN NOW ENHANCE THE TREATMENT OF COVID-19 PATIENTS WITH AN ADDITIONAL X-RAY MACHINE.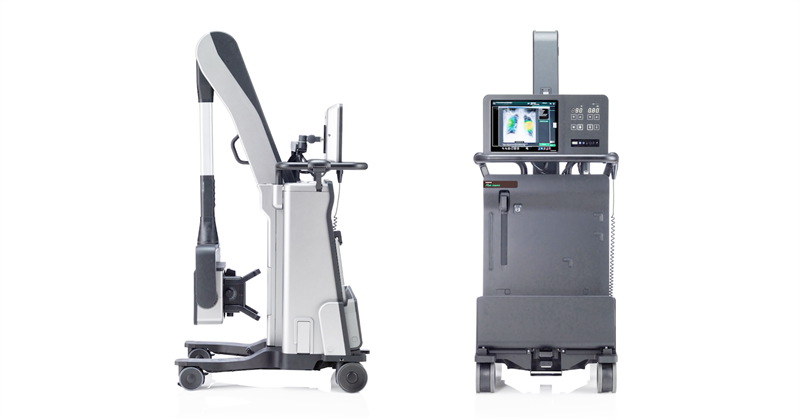 As part of efforts to aid Saint Lucia's response to the COVID-19 pandemic, the Government of France recently officially handed over a nano portable x-ray machine to the Government of Saint Lucia.
The nano portable x-ray machine is expected to assist the staff at the Respiratory Hospital in providing care for patients infected with the COVID-19 virus.
Medical Director of the Respiratory Hospital Dr. Alisha Eugene-Ford says the donation of the portable x-ray machine is timely and will assist in the clinical diagnosis of patients.
"Radiology imaging is one of the critical elements of clinical diagnosis of patients in the treatment regimen for COVID-19. As everyone is aware our radiology imaging services at the Respiratory Hospital is outsourced because our equipment has malfunctioned. The past few weeks has been very tasking; managing the logistics of x-rays with the various private sector agencies. This gift will enable the Radiology team to provide timely x-ray imaging to the clinical team to aid in clinical diagnosis and the treatment of our patients."
Minister for Health, Wellness and Elderly Affairs Hon. Moses Jn. Baptiste expressed gratitude to the Government of France for the donation and says this demonstrates their commitment to assist Saint Lucia in the management of the COVID-19 pandemic.
"X-ray is a vital component in the management of patients at the Respiratory Hospital. The Ministry of Health, Wellness and Elderly Affairs must ensure that the hospital has the capacity to perform X-rays when requested by the physicians who are managing the patients at the facility. The Ministry of Health recognizes this donation of Fuji digital X-ray Portable Nano Machine is another in a series of material, financial and technical support that France is providing to Saint Lucia in the fight against this COVID-19 pandemic."
Ambassador to Eastern Caribbean States, Barbados and the OECS His Excellency Jacques-Henry Heuls says this donation is part of the long standing health cooperation between the Government of France and the Government of Saint Lucia.
"This equipment uses a cutting edge technology absolutely essential to diagnose and evaluate the intensity of viral infection in COVID-19 patients. It will be the first of such kind at the Victoria Hospital and hence will greatly impact the care of patients by facilitating their treatment and therapy."
The Ministry of External Affairs, International Trade, Civil Aviation and Diaspora Affairs were also thanked for their contribution in coordinating with the relevant counterparts in Martinique and France to make this donation possible.
The nano portable x-ray machine is valued over ED$160, 000.