ATHLETICS COACH SAYS THE SPRINT STAR CONTINUES TO EXCEL AND RAISE THE BAR.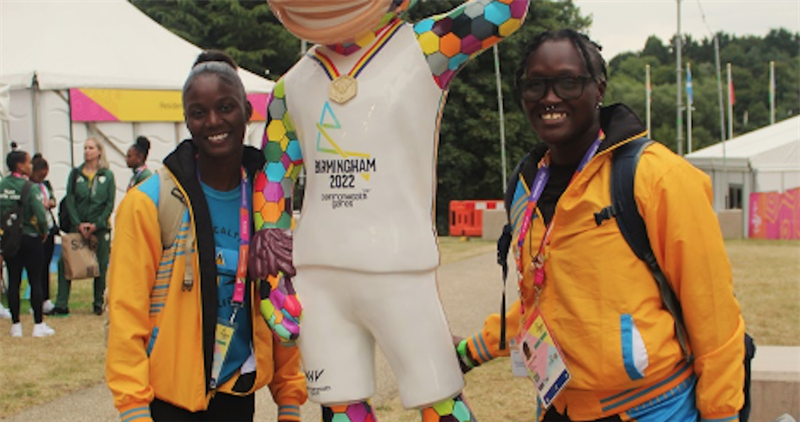 Saint Lucian sprint star, Julien Alfred, says supporters can expect the best from her at this summer's Commonwealth Games now on in Birmingham, United Kingdom.
Alfred, 21, will compete in the 100m and 200m in Birmingham, after being disqualified in the semifinals of the 100m at the 2022 World Athletics Championships in Eugene, Oregon, in mid-July due to a false start.
Having won gold at the Youth Commonwealth Games in The Bahamas in 2017, Alfred is now eyeing gold in the senior category.
"I would love to be (both) the Youth and Senior Commonwealth Games champion, but I don't want to put any pressure on myself," Alfred said in Birmingham on Wednesday afternoon following a practice session. "I just want to go out there and do my very best. That's all I can do right now."
With the Olympic Games scheduled to be hosted in Paris in 2024, Alfred says her focus is also on leaving her mark there. She, however, hastened to add that she has some unfinished business to resolve.
"We also have the World Championships next year before the Olympics, so I'm looking forward to just staying healthy and going out there and doing my very best," Alfred stated.
In May, Alfred, who is Saint Lucia's record holder in the Women's 60m, 100m and 200m, recorded the fourth fastest time in the world in the Women's 100m this year with a time of 10.81 seconds.




"I think it's a very special feeling, but I'm just not trying to think of it as that. I'm just trying to think of it as I'm among the very best, but also going out there and doing my best," she explained.
Meanwhile, Athletics Coach, Makeba Alcide, who has been working diligently with Alfred in Birmingham, described her as "a special athlete" who continues to excel and raise the bar.
"From a young age, you would have seen that she is very talented," Alcide said. "She's had a very long season and has excelled very well, so we're all very proud of her for all the barriers she's broken."
Speaking to Alfred's mental and physical state following the disqualification at the World Athletics Championships, Alcide said the young track star is poised to make good on her promise to represent Saint Lucia with excellence.
"Coming off from the World Championships, obviously we want to keep her focused on competing and representing Saint Lucia well," said Alcide. "She's mentally in a good place right now, so we're happy about that. She's in good form and not exhausted or super tired. So she's actually very excited to race at the Commonwealth Games."
The 2022 Commonwealth Games run from 28th July to 8th August, 2022, and will feature more than 5,000 athletes from across the Commonwealth. Saint Lucia is fielding 13 athletes in track and field, boxing, swimming and table tennis.
For a schedule of the Games, go to Birmingham-2022-Competition-Schedule.pdf (pulselive.com).
Read More:
PRIME MINISTER HON. PHILIP J. PIERRE WILL ATTEND THE FORTY-FOURTH (44TH) REGULAR MEETING OF THE CONFRENCE OF HEADS OF GOVERNMENT...
Read More
Police are investigating the discovery of the partially decomposed body of a man on Wednesday near the Fond D'Or beach...
Read More