by OECS Media Release
THE OECS COMMISSION AND CXC COLLABORATE USING NEW EDUCATIONAL TECHNOLOGY.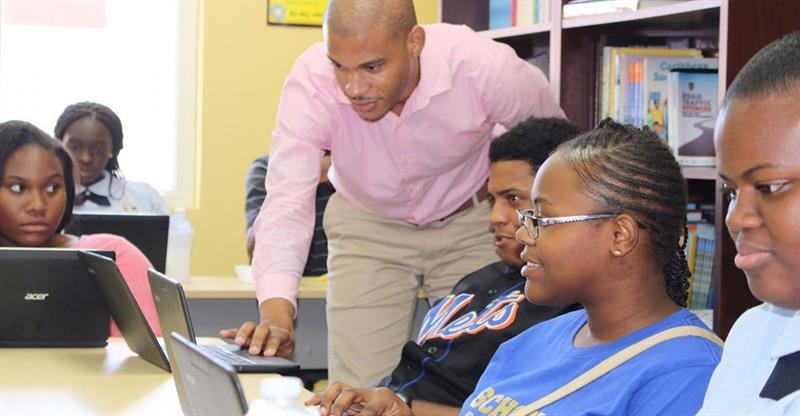 The OECS Commission's Education Development Management Unit and the Caribbean Examinations Council (CXC) have collaborated to provide continuity in teaching to hurricane affected students in the British Virgin Islands, Dominica, and Antigua and Barbuda, using Notemaster, a custom built learning environment that allows students open access to knowledge and educational resources and to collaborate remotely while learning.
The new platform was used from Oct. 30 to Nov. 1, which marked the first in a series of roll outs of its kind held in the British Virgin Island (BVI) at the Virgin Island School of Technical Studies. OECS Director General, Dr. Didacus Jules, said that CXC Notemaster was an example of new educational technology being adopted within the regional integration framework to enable students to continue their studies and not be affected by borders or the shutdown of schools due to hurricanes.
"CXC Notemaster has proven invaluable in ensuring continuity in the delivery of the OECS curriculum and to empower both educators and students to not be hindered by traditional blockages to school stoppages such as extreme weather events" said Dr. Jules.
CXC Notemaster was presented to senior school teachers and personnel within the Ministry of Education in the BVIs with a demonstration of all tools and features to enhance each subject area using the Virtual Subject Associations(VSA). Senior students selected from different schools were also introduced to the platform, specifically the Virtual Learning Groups, SBA information, finding study resources among other features.
BVI Minister for Education, the Hon. Myron Walwyn, expressed confidence in the platform that linked teachers, schools and students to each other and to their neighbors in the OECS.
"This is all part of our plans to move towards the integration of technology in the teaching and learning process. I am pleased that our plans for this invaluable system were well advanced ahead of Hurricane Irma since the physical part of our education system was compromised," said Minister Walwyn.
To ensure that stakeholders are properly equipped to utilize all features of the platform, a support network was formed for all schools to facilitate the full training of all members of staff.
Continuity of Education - The Use of Online Learning Support Post Disasters will be an agenda item at the impending meeting of Chief Education Officers, Directors and Education Planners held from Nov. 14-15 in Saint Lucia. The presentation will be facilitated by Damon Clarke from Notemasters at the St James Morgan Bay Hotel. It is anticipated that OECS member states Chief Education Officers and Directors of Education will explore options to developing a regional approach for the continuation of education post disasters, online learning being one of those vehicles.
The OECS Education Development Management Unit continues to work with CXC to further advance Notemaster across the region to elevate student educational outcomes.
sponsored ad