by Merlica Williams-Davy, Ministry of Commerce
FOUR COMMUNITY PROJECTS HAVE BEEN COMPLETED IN SAINT LUCIA.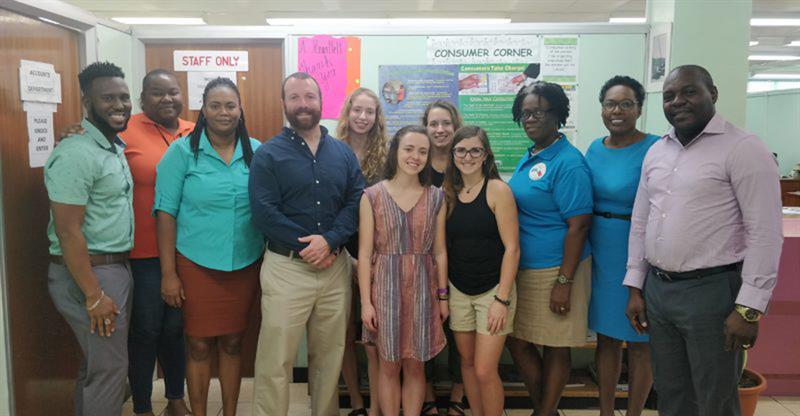 Eighteen students and two professors from the University of Vermont have completed four community projects in Saint Lucia.
The projects consisted of a kitchen garden at the Lady Gordon Opportunity Centre, a survey of the Piton Management Area in Soufriere, a survey on the banking sector in Saint Lucia, and a media podcast on the Piton Management Area.
Senior Lecturer at the University of Vermont, Thomas DeSisto, applauded the partnership with the people of Saint Lucia.
"All four of these projects this year and all previous years were, in truth, the brainchild of people of Saint Lucia that we collaborated with, and we think that is absolutely critical," he said.
The partnership between the UVM and the Ministry of Commerce has spanned a 16-year period, throughout which time they have engaged in several community projects.
"I must indicate that we at the Ministry of Commerce are quite satisfied thus far with the collaboration, as this agreement, initially conceptualized to benefit the Consumer Affairs Department has evolved," Director of Consumer Affairs, Guillaume Simon, said. "It has expanded its reach to include collaborations and exchanges with other national and social partners like the Piton Management Area. We've partnered as well with community groups so that speaks well in terms of the partnership and the collaboration between Saint Lucia and the University of Vermont."
Previous projects included HIV/AIDS Education using soccer at the Dennery Primary School, a Consumer Cable and Internet Services Survey, and installing a micro-hydro system on the island, to name a few.