by CCC
THE CITIES OF CASTRIES AND TAIPEI SIGNED A SISTER-CITY TWINNING AGREEMENT ON AUG. 22, 2018.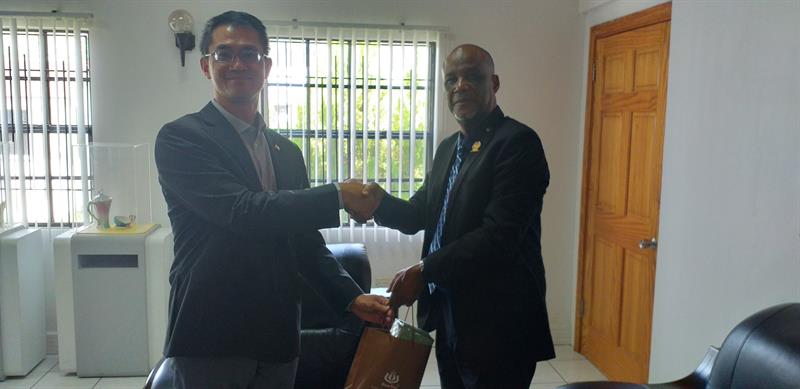 Mayor of Castries His Worship Peterson D. Francis recently paid a courtesy call on the new Taiwanese Ambassador to Saint Lucia, His Excellency Peter Chia-yen Chen.
This was the first engagement between the Castries mayor and the newly appointed ambassador to the island.
Mayor Francis expressed his appreciation to the Embassy of the Republic of China (Taiwan) for its support to the Office of the Mayor, the Castries Constituency Council and by extension the government. Upon His Worship's arrival at the Taiwanese Embassy in Reduit, pleasantries were exchanged, and thereafter, round-table discussions commenced. The dialogue included matters relating to the Mayor's Office, cultural exchanges and governance. In addition, Mayor Francis also spoke to the level of assistance provided by the Embassy of the Republic of China (Taiwan) and the need for continued mutual partnerships.
"As you know we have maintained good momentum and cooperation with the Taiwanese Embassy. This remains very critical in being the driving force in the development of bilateral relations. We can only build and progress based on strengthened relations," he said.
The City of Castries and the City of Taipei signed a sister-city twinning agreement on August 22, 2018.
The Mayor's visit to the new Taiwanese Ambassador concluded with an exchange of presents.
Also present during the meeting were CCC Communications Manager Mr. Jason Hullingseed, Special Initiatives and Operations Director Mrs. Mavista Rosemond, Second Secretary Jonathan Yang, Counselor Bill Huang and Deputy Counselor Ta-Sheng Kuan.
Related Articles