by Glen Simon, Ministry of Health
THE DRIVE ENCOURAGED EMPLOYEES TO DONATE TOWARD THE FIGHT AGAINST BREAST CANCER.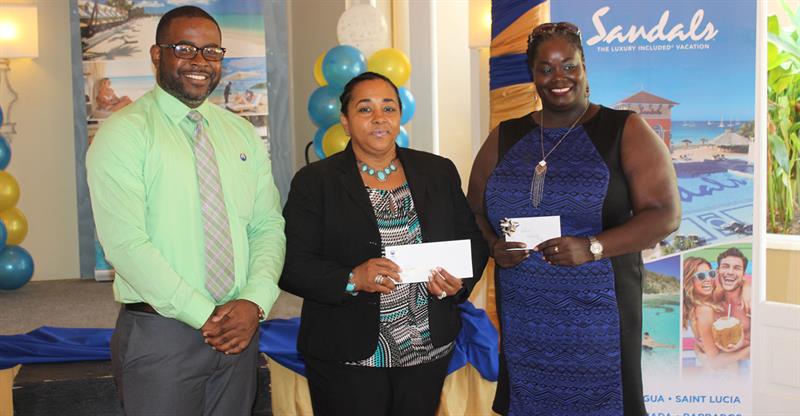 A dollar for dollar drive was launched as part of the schedule of activities for Breast Cancer Awareness Month in October. The aim was to encourage employees in various business enterprises to contribute one dollar toward the fight against breast cancer and the company would match every dollar given.
The event, launched at Sandals Grande St. Lucian Spa and Beach Resort, was also the venue for the handover ceremony to the benefactors the National Community Foundation (NCF) and the St. Lucia Cancer Society.
Three organizations participated in the handover ceremony. The National Insurance Cooperation and the Ministry of Health and Wellness presented their monetary contributions to the NCF. Alison Isebert from the Ministry of Health and Wellness, and Linus Bernadine from the National Insurance Corporation, presented their contributions to the Executive Director of the NCF, Michelle Phillips.
Managing Director of Sandals St. Lucia, Winston Anderson made his presentation to Dr. Jacqueline Bird who represented the St. Lucia Cancer Society. He also pledged to develop a closer working relationship between Sandals St. Lucia and the St. Lucia Cancer Society.
The Ministry of Health also took the time to recognize Ms. Kenaz Francis, Mr. Winston Anderson, and Exelsign Ltd. for their tremendous contributions to the success of Breast Cancer Awareness Month, 2017​.