by Glen Simon, Ministry of Health
PRIMARY CARE SERVICES TO COMMENCE AT ST. ISIDORE'S HALL IN SOUFRIERE.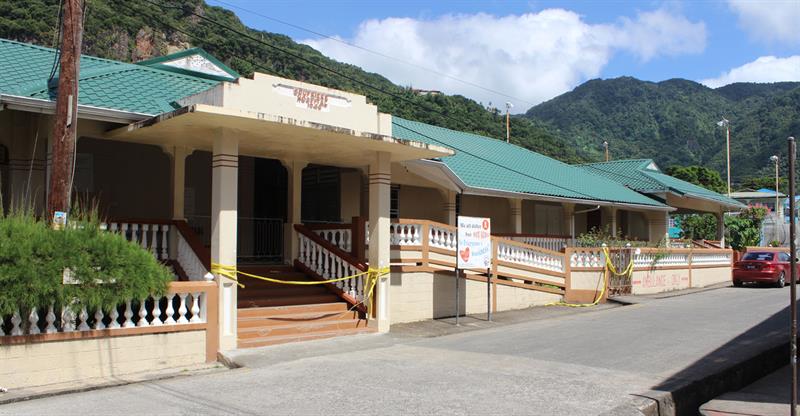 Medial Officer for Health, Dr. Sharon Belmar-George, has reported that there were no injuries or casualties resulting from the Dec. 2 fire at the Soufriere hospital.
She also provided a report on the damages, and on the temporary relocation of health services..
"Based on the initial reports, we note that the maternity section, the storeroom, and the mental health area to the back of the building were destroyed by the fire, however in the front of the building, the primary care section remained intact," she said.
"To date, 24 hour services are available at the Etangs Wellness Centre. We are also working to retrofit the St. Isidore's Hall which is central within the community of Soufriere to provide primary care services to the community. We note that with the relocation during the last fire, the number of clients who were able to access the Etangs Wellness Centre was reduced. So we are quite pleased to be working on this to ensure access to care for the community of Soufriere."
Dr. George appealed for patients' understanding until the primary care unit of the Soufriere hospital is reopened. The Ministry of Health is hoping to commence primary care services at St. Isidore's Hall in Soufriere.
"Apart from the actual damage to the structure at the hospital, we also lost valuable equipment and supplies which were in one of the storerooms which got completely damaged. We have also been working with the St. Jude Hospital and the Victoria Hospital to provide the additional support. So these support services are working with us to reduce the impact of this fire on the services that we provide."
Health Officials were alerted to the fire at the Soufriere hospital at about 7 p.m. on Dec. 2. This is the second fire in less than four weeks to occur at the Soufriere Hospital. The first was on Nov. 9.
sponsored advertisement