by ECCB
GOVERNOR ANTOINE PRESENTED THE ECCB'S STRATEGIC VISION AND PRIORITIES.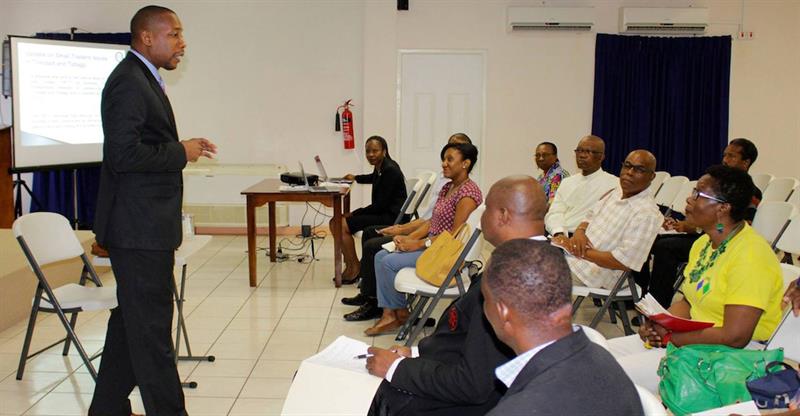 Alleviating the plight of small traders when transacting business in regional markets, and promoting competitiveness, productivity and global connectivity through greater use of digital payments solutions, were among the broad issues discussed as Governor of the Eastern Caribbean Central Bank (ECCB) Timothy N. J. Antoine commenced the second round of country outreach missions with engagements in St Vincent and the Grenadines.
The Country Outreach Missions are in keeping with the ECCB's strategy to improve stakeholder relations. They are intended to engage and solicit input from political, social and business leaders to better identify ways for the ECCB to support the development of its member countries.
The mission to St Vincent and the Grenadines took place from Oct. 25 – 26, where Governor Antoine met with the Cabinet and Members of the Opposition, representatives of the Chamber of Commerce, civil society, commercial banks and the media. During the engagements Governor Antoine presented the ECCB's strategic vision and priorities; and the scorecard for St Vincent and the Grenadines, which reviewed the country's performance in relation to the bank's key strategic priorities of maintaining the stability of the currency, financial sector resilience, promoting fiscal and debt sustainability and economic development and competitiveness.
The other broad areas discussed included: improving resilience to climate change in areas such as construction and infrastructural development, fiscal legislation and improved agricultural practices; strengthening the implementation capacity at the national and regional levels to better access finance, for development and climate change adaptation; improving access to credit to small businesses and enhancing financial education and awareness; and revamping the education system to cater to the new digital economy.
Governor Antoine described the discussions in St Vincent and the Grenadines as "very fruitful" and expressed gratitude to all the stakeholders for their participation and valuable contributions. He said the ECCB looks forward to working in partnership with these partners to identify solutions to the issues identified.
The next leg of the mission is currently taking place in Grenada from 30 – 31 October.
sponsored ad