Prime Minister speaks of hurricane damages
Friday, September 15, 2017
MR. CHASTANET, AS CHAIRMAN OF THE OECS, TOURED THE ISLANDS MOST SEVERLY IMPACED BY HURRICANE IRMA.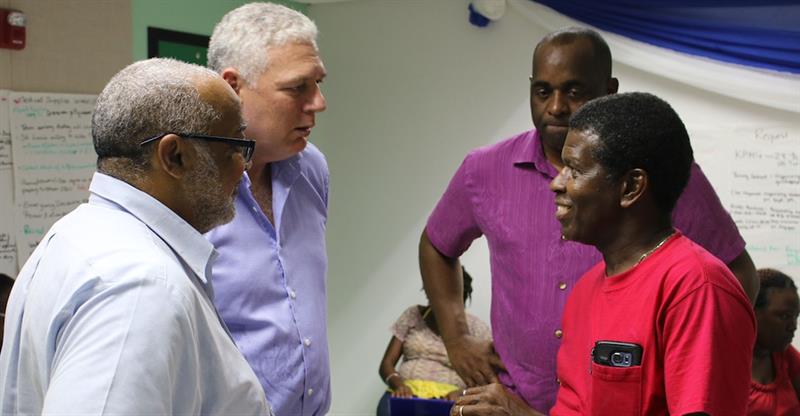 The Prime Minister of Saint Lucia, Hon. Allen Chastnet, has shared a personal account of the devastation suffered in Anguilla, the British Virgin Islands, Antigua, and St. Kitts in the aftermath of Hurricane Irma.
At a Sep. 12 sitting of the House of Assembly, during his opening remarks, the Prime Minister lamented on the destruction that the Category 5 storm had caused.
"As chairman of the OECS I had the opportunity to tour, accompanied by the Secretary General of the OECS, Dr. Didacus Jules, and by Dr. Roosevelt Skerrit. We visited Anguilla, the BVI, Antigua and St. Kitts. The devastation in the BVI and Anguilla is severe. Every single telephone pole and electrical pole that we saw was down. Rooms that had galvanised roofing were all down.
"In the case of the BVI, work to start building up the country or even cleaning up the country had not begun. Also, CDEMA made it into BVI for the first time on Sunday. "In Anguilla, the devastation was equally as harsh. In fact the vast majority of schools are without roofs but I found that the people had begun the clean up process. Unfortunately, with Saint Martin being deemed as unsafe, the party was unable to visit the territory."
The Prime Minister stated that following the visit, the Heads of Government of the OECS were to meet on Sep. 13. Down for dicscussion would be recommendations on ways to move forward.