by Fernelle Neptune, Ministry of Health
ARRANGEMENTS HAVE BEEN MADE TO MEET THE DEMAND FOR OXYGEN AT THE RESPIRATORY HOSPITAL.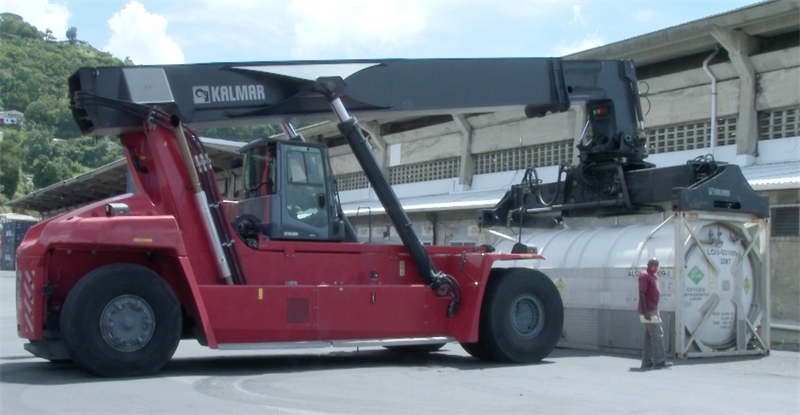 The Ministry of Health recently received an ISO tank of liquid oxygen from Martinique to assist with the surging demand for oxygen at the Respiratory Hospital.
The oxygen procured will be used to treat COVID-19 patients at the Respiratory Hospital.
Medical Director at the Respiratory Hospital Dr. Alisha Eugene-Ford says she is elated about the boost in oxygen supply given the greater demand for oxygen at the hospital.
"Oxygen therapy is a very important arm when it comes to treating COVID-19 and over the last few weeks, we have noticed an increase in the number of patients coming very ill and requiring more and more oxygen. It is a very expensive process to allow us to get it. Martinique has their cases as well to deal with. We actually had a boat from Dominica who came across to drop this tank for us and they too have to deal with their cases. So, we are asking us Saint Lucians to do what we need to do; mask-up, hand hygiene, isolate, vaccinate."
General Manager of Windward Island Gases Limited Lucas Lubin says the fourth wave of COVID-19 has put a strain on their supply of oxygen and therefore must explore options to provide oxygen to the hospital.
"Normally the Victoria Hospital would have done 240 cylinders of our oxygen in almost 2 weeks. Right now the demand is so high we end up doing about 240 cylinders per day. Right now, as of two days ago it has ranked up to 300 cylinders per day. It has put sort of a strain on our productive capacity cause we do have a plant and as well we do import oxygen to compensate for any differences and as a result of that significant demand, we had to maintain supplying the hospital and ensure we had more tanks to be able to supply the hospitals in particular the Victoria Hospital."
The purchasing of the ISO tank of liquid oxygen was made possible through the efforts of the Government of Saint Lucia, Windward Island Gases Limited and the Government of Martinique.