by Lissa Joseph, GIS
THE BOIS D'ORANGE FACILITY HAS RESTROOMS AND GRADED LAND WITH A BYPASS.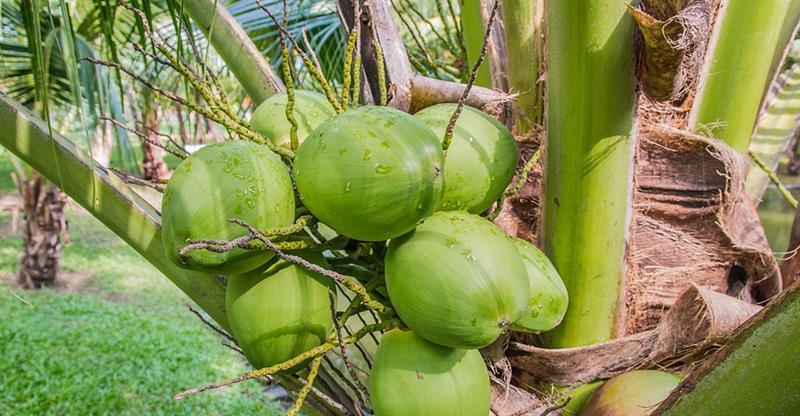 The Gros Islet Town Council has employed a series of measures directed at improving conditions for coconut vendors operating in the Rodney Bay area. The decision dovetails efforts by the Caribbean Agriculture Research and Development Institute (CARDI), to create a more sustainable coconut sector.
Following a meeting with the Gros Islet Constituency Council, coconut vendors, the Department of Health and Wellness, and the Saint Lucia Bureau of Standards (SLBS), a decision was made to relocate the coconut vendors.
Gros Islet Mayor, James Edwin, said the decision was due to a number of factors.
"It poses a challenge with regard to the safety of the coconut vendors, pedestrians, and motorists," he said. "Moreover, vendors sometimes spend fourteen to sixteen hours plying their trade with no washroom facilities."
Mayor Edwin said the Gros Islet Constituency Council consulted vendors several times in the past year regarding relocation. At one meeting, representatives of the departments of health, physical planning, infrastructure and the Bureau of Standards were invited to discuss why the relocation was necessary.
The mayor is calling on the vendors to approach the situation objectively. The intention he said, is not to prevent vending, but to enhance it. He indicated that some $20,000 dollars was raised and some already spent to prepare the new location at Bois d'Orange. Among other things, a facility attendant was hired for the upkeep of the installed restrooms, while the area was graded with the creation of a bypass. Discussions were also held with the traffic department of the Royal Saint Lucia Police Force on a traffic management plan.
The decision falls in line with regional efforts at enhancing the coconut sector. The Caribbean Agricultural Research and Development Institute (CARDI) is spear-heading the Caribbean Coconut Industry Development Project, a four-year initiative in partnership with the International Trade Centre (ITC). It is aimed at improving income and employment opportunities, food security, and the overall competitiveness of the Caribbean coconut sector. It also seeks to address all issues along the value chain, from production to the manufacturing of coconut water, oils and soaps.
In Saint Lucia CARDI has been working with the Saint Lucia Bureau of Standards to ensure standards are adhered to within the various processes.
Related Articles