by Fernelle Neptune, Ministry of Education
THE INDUSTRY-RECOGNIZED CREDENTIAL PREPARES GRADUATES FOR A CAREER IN THE TECHNOLOGY SECTOR.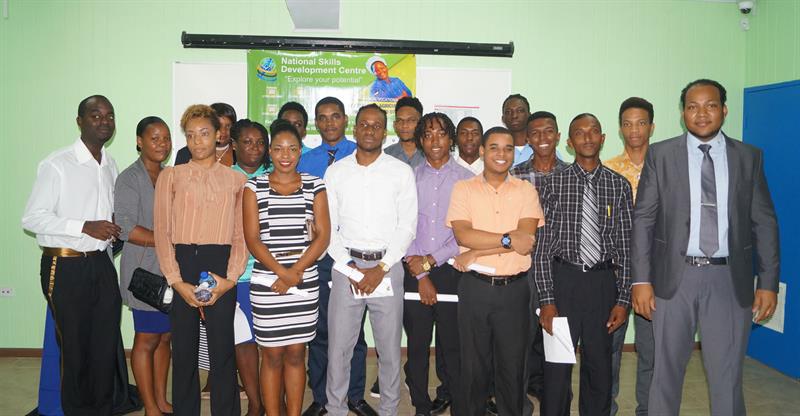 More Saint Lucians are on the path to attaining a rewarding career in the field of Information Technology, through the Computing Technology Industry Association, or CompTIA certification.
The CompTIA certification is an industry-recognized, entry-level credential, which prepares graduates for a career in the technology sector. The achievements of IT professionals, who successfully completed the CompTIA certification program, was celebrated as the National Skills Development Centre (NSDC) hosted a graduation ceremony recently.
General Manager of the NSDC, Selma St. Prix, said her organization was delighted and pleased to celebrate its partnership with CompTIA, considered as one of the IT industry's top trade associations.
"We already have a number of them employed before their graduation, and the others there have potential employers looking at them already. So, we are saying that even before our trainees are certified, knowing that kind of international certification, the employers are already asking for these trainees. This is something we believe that all establishments going into training must do; to put them on apprenticeship, let them prove themselves and then the organizations keep them," said the NSDC manager.
Senior Network Administrator of NSDC, Kurt Augustin, said it is important to recognize the success of the program as they continue to enhance the lives of Saint Lucians.
"This accomplishment is just a start for NSDC, as we continue to grow our nation and build our workforce. Everyone who has accomplished this certification, I urge them to continue on your journey to obtain more certifications and to grow the industry. It is with great pleasure that I trained you all under the partnership, and I will continue to look forward to training many more of our Saint Lucians in the future," Mr. Augustin said.
Twenty-one students and four NSDC staff members participated in the program and received the CompTIA certification.
sponsored ad