La Rose "Gwan Fet" this Wednesday
Monday, August 28, 2017
DENNERY VILLAGE WILL HOST TEN PARTICIPATING LA ROSE GROUPS AND A 20-MEMBER VISITING DELEGATION FROM FRENCH GUIANA.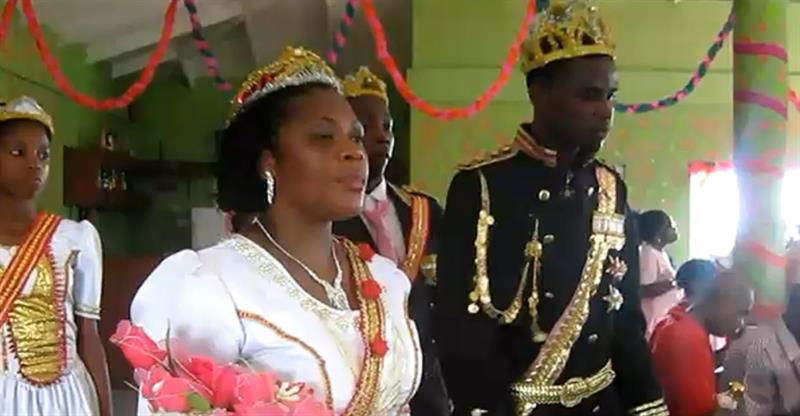 Fèt La Wòz is the celebration of one of two "floral societies which expresses an exhaustive system of mock administration from a royal family to an army, police force, judiciary, health service, and education system," (from The Flower Festivals of Saint Lucia, Hon. Msgr. Patrick A. B. Anthony) among others. A total of thirteen groups are registered and based in various communities around Saint Lucia. Each group holds séances in the lead up to the grand feast day, which consists of all night singing and dancing sessions. The central figure at the séance is the chantwèl (female singer) or chantè (male singer), who sustains the spirit and tenor of the evening's entertainment.
The Gwan Fèt is celebrated annually, on Aug 30. This year, the Gwan Fèt takes us to the village of Dennery where a church service will take place from 9:30 a.m. at the St. Peter Roman Catholic Church. Ten participating groups (Aux Lyons, Belle Vue – Vieux Fort, Desruisseaux, Grand Riviere, Laborie Society, Monchy, Soufriere, Dennery, Rainbow Bridge Project and a 20-member visiting group from French Guiana) will in brilliant fashion parade the main village street to the Clendon Mason Memorial Secondary School where they will make dramatic presentations all in admiration and honour of the symbolic rose flower.  The celebration coincides with the feast day of Saint Rose de Lima.
On the evening of Saturday, Aug 26, from 5 to 10 p.m., established groups from around the island will engage the public in the full splendour of La Wòz traditions with a gwan séance. The gathering will be led into call-and-response singing as well as informal classes in figure and other ballroom type dances. Members of the public can expect traditional foods including donbwé La Wòz which will be on sale by La Wòz groups.
The Cultural Development Foundation (CDF) is hopeful that the objectives of creating greater public awareness of the festival in terms of its history, purpose and the elements that make up the festival as well as encouraging greater private sector participation in the festival will be met.