ECSC exhibition now underway
by Julita Peter, GIS
THE EASTERN CARIBBEAN SUPREME COURT HOSTS AN EXHIBITION AT THE CASTRIES CITY HALL, THIS WEEK.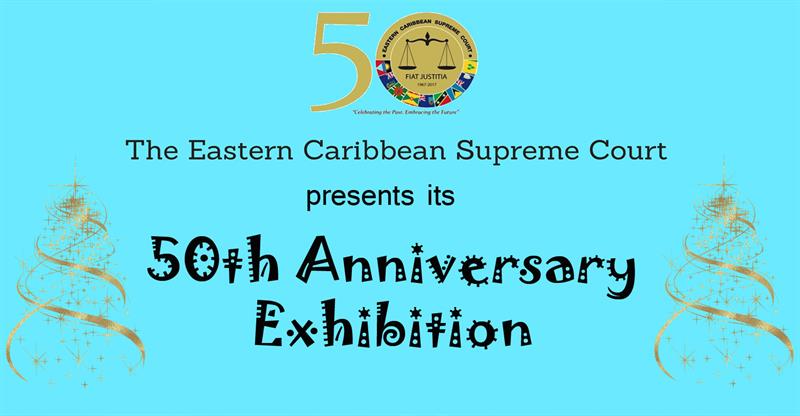 The Eastern Caribbean Supreme Court continues the celebration of its 50th Anniversary under the theme "Celebrating the Past, Embracing the Future."
In celebration of this milestone, the Court has staged an exhibition at the Castries City Hall. The five-day exhibition opened on Oct. 9.
Michelle John-Theobalds, Chief Registrar within the ECSC said the exhibition is an opportunity for persons to learn more about court processes.
"So we have partnered to host an exhibition which is geared at citizens, residents, visitors, and in particular students of the island of Saint Lucia. It is an opportunity for those persons to develop a greater understanding and appreciation for the way in which the courts work. I think it would stand students in particular in good stead to know more about these organizations."
The exhibition will showcase a special element: the works of Saint Lucian national, Rt. Hon. Sir Vincent Floissac, former Chief Justice and President of the Court of Appeal of the Eastern Caribbean Supreme Court. Sir Vincent served in that capacity from November 1991 to July 1996.
"We are focusing on some of his works, his judgments, and just basically his life, and we are looking forward to having a very informative exhibition. We encourage all persons no matter what your age, to come out and experience this."
Members of the legal fraternity and the public will also benefit from a live tutorial on how to successfully navigate the website of the Eastern Caribbean Supreme Court.
The exhibition is being held in collaboration with the OECS Commission, the Eastern Caribbean Telecommunications Authority (ECTEL), and the Saint Lucia Diabetes and Hypertension Association (SLDHA).
The Eastern Caribbean Supreme Court was established in 1967 by the West Indies Associated States Supreme Court Order, No. 223 of 1967.  ECSC is a superior court of record for the Organization of Eastern Caribbean States (OECS), including six independent states: Antigua and Barbuda, the Commonwealth of Dominica, Grenada, Saint Kitts and Nevis, Saint Vincent and the Grenadines, Saint Lucia, and three British Overseas Territories (Anguilla, Territory of the Virgin Islands, and Montserrat). It has unlimited jurisdiction in each member state.
sponsored ad