by Glen Simon, Ministry of Health
HEALTH WORKERS HAVE BEEN GRANTED ACCESS TO THE HOSPITAL FOLLOWING INVESTIGATIONS.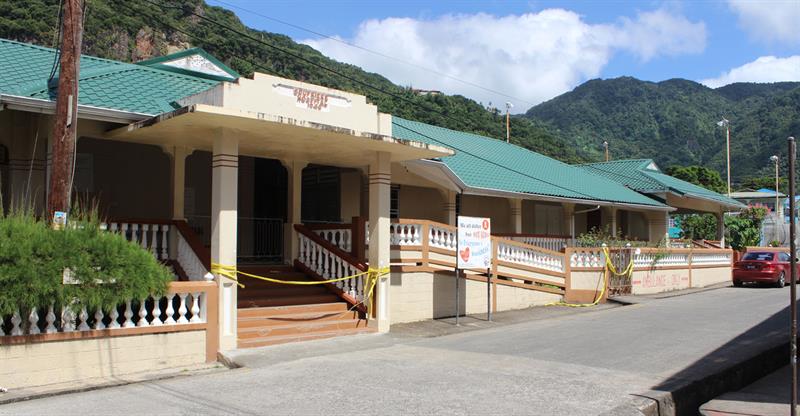 A meeting with the Soufriere police on yielded positive news that the Soufriere hospital can be re-occupied. All medical services at the Soufriere hospital were previously cancelled and relocated to the Etangs Wellness Centre due to a fire contained in the records room of the hospital on Nov. 9.
Chief Medical Officer, Dr. Merlene Fredericks said services at the hospital will resume on Nov. 15.
"The Ministry of Health has a positive update after our visit and discussions with the relevant stakeholders. We have been granted access to the Soufriere Hospital so we are anticipating that by 7 a.m. tomorrow [Nov. 15] we will be resuming service at the Soufriere Hospital. But, in the interim we would like to remind patients and patrons that from tonight, the 24hr service is still available at the Etangs Wellness Centre. We're certainly hoping that by tomorrow at 7 a.m. persons from Soufriere will again be able to access services at the Soufriere hospital."
Earlier, Dr. Fredericks and senior nursing officers assessed the temporary arrangement put in place at the Etangs Wellness Center to ascertain whether clients were effectively accessing care at the facility.
Officer in Charge of the Soufriere hospital, Nurse Candilia Wilson-Altenor, said the move to Etangs has been challenging, but the staff have been cooperative.
"Persons from the community have been complaining that it is difficult to get to the Etangs Wellness Centre because of transportation issues," she said. "However, they are coming in and are utilizing the center. We have not received the regular influx of clients that we normally get at the Soufriere hospital. We're seeing smaller numbers, so we are a bit concerned especially with our COPD clients, our maternity cases, our mentally ill clients, our diabetics, and our hypertensive clients that we see regularly. However, we are doing the best that we can under the circumstances."
The Chief Medical Officer expressed her gratitude to the hard working medical, nursing and ancillary staff of the Soufriere Hospital for going above and beyond the call of duty to ensure that medical services continued for clients of the Soufriere hospital, and also to the residents of Soufriere and environs for their patience and understanding.
sponsored ad