by GIS
HEALTH OFFICIALS NOTE INCREASE IN SEVERE CASES AND DEATHS FROM THE ISLAND'S SOUTH-WEST.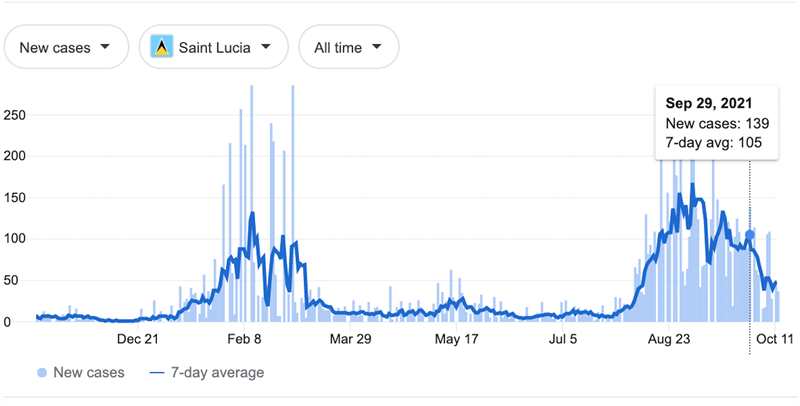 The fourth wave of COVID-19 in Saint Lucia has peaked and is on the decline. On October 11, the Ministry of Health, Wellness, and Elderly Affairs reported a reduction in transmission, hospitalization, positivity, and prevalence rates.
Chief Medical Officer, Dr Sharon Belmar George forecasts average resolution of the fourth wave by November, 2021, barring any major increases in risks for new transmission.
"The daily infection rate for the past week was 22 per 100,000 people per day—a 68 percent decrease from the previous week," she said. "We note a steady decline in the rate of transmission at this point with a present rate of 1.3. We continue to note cases diagnosed related to social activities, workplaces and spread between families. To date, from the positive cases diagnosed in country, less than 2 percent have been fully vaccinated while 98 percent of COVID-19 deaths and COVID-19 related deaths at the Respiratory Hospital were unvaccinated. The 2 percent of deaths who were fully vaccinated had other serious underlying health conditions which contributed to their demise."
Since the fourth wave began on July 25, there have been 133 COVID-19 deaths, on average three deaths daily. Males account for 56 percent of the deaths. There has been an increase in severe cases, admissions and deaths from the south-western zone of the country which also corresponds to the areas of low vaccination uptake.
Dr. Belmar-George said the Ministry of Health will be doubling vaccination efforts particularly as more cases of the dangerous Delta variant are recorded.
"The Ministry of Health received notification from the Caribbean Public Health Agency (CARPHA) of nine new cases of the Delta variant. All are nationals. Seven are female, two are male, with ages ranging from 25 to 69 years. We continue to ask the public to work with us and exhibit responsible behavior to manage this fourth wave. Let us all take personal responsibility to keep ourselves and families safe. At present we have available both the Pfizer and Astra Zeneca vaccines free of charge in country at the various wellness centers. These vaccines have been proven to be safe and effective in protecting persons from developing COVID-19 in its severe forms, as well as complications, hospitalizations and death."
The Ministry of Health advised the public to remain vigilant and adhere to all health and safety protocols.