TWO GOVERNMENT MINISTERS WILL SOON VISIT CHILE TO DISCUSS AREAS OF MUTUAL COOPERATION.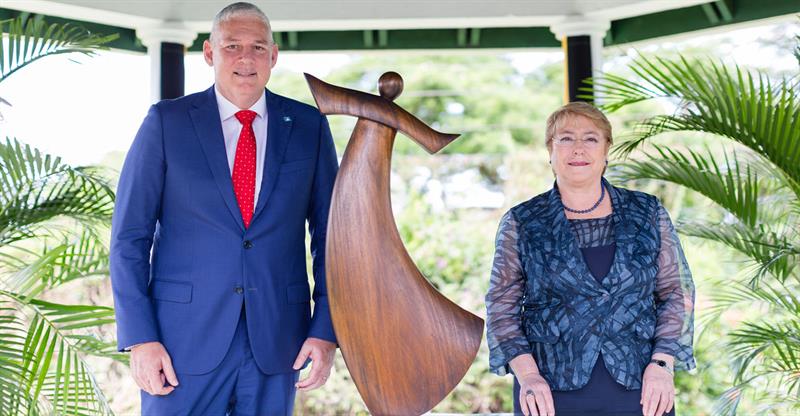 President of the Republic of Chile, HE Michelle Bachelet and Prime Minister Hon Allen Chastanet have both spoken on the success of the official state visit to Saint Lucia.
During the visit, President Bachelet had an extensive agenda which included meeting with the island's Governor General, Her Excellency Dame Pearlette Louisy, the honourable members of the House of Parliament, and the Cabinet of Ministers.
At a press briefing held on Friday, Aug. 25, Her Excellency Michelle Bachelet commented on the positive relations shared by Saint Lucia and the Republic of Chile and the intention shared by the two countries to build on them.
"We have had a fruitful dialogue but as you have said we will go on and deepen our bonds of friendship. I would like to highlight that this is a historic event because it is the first time that a Chilean president has ever come for an official visit to Saint Lucia and that reflects the importance that we give to Saint Lucia and the excellent relations and mutual respect between our two nations and the friendship built since our countries established diplomatic relations in 1990, and it must be said that Saint Lucia and Chile share many issues of interest both bilaterally and in the global and regional levels and in this sense I will like to emphasize the commitment of both countries, with fundamental values such as respect for democracy, human rights, rule of law, and of course concerns on environment."
The Prime Minister of Saint Lucia, Hon. Allen Chastanet thanked the president for including Saint Lucia on her Caribbean tour and also for the contribution made by Chile to female Saint Lucian entrepreneurs.
"I want to very much say thank you to the Republic of Chile through you Madame President for contributing USD$100,000 toward affected women especially in regards to skills in entrepreneurship, and that is something very dear to our hearts at Cabinet and I just want to say on behalf of all the women on that Cabinet and especially the women who will benefit, how grateful we are for that."
Saint Lucia first established diplomatic relations with the Republic of Chile in 1991. Two ministers of government are expected to visit Chile soon to continue discussions on areas of cooperation.
The official state visit to Saint Lucia of HE Michelle Bachelet took place from Aug. 24 – 25, 2017.