by Julita Peter, GIS
PRIME MINISTER CHASTANET SPOKE THOROUGHLY ON THE PLIGHT OF SIDS.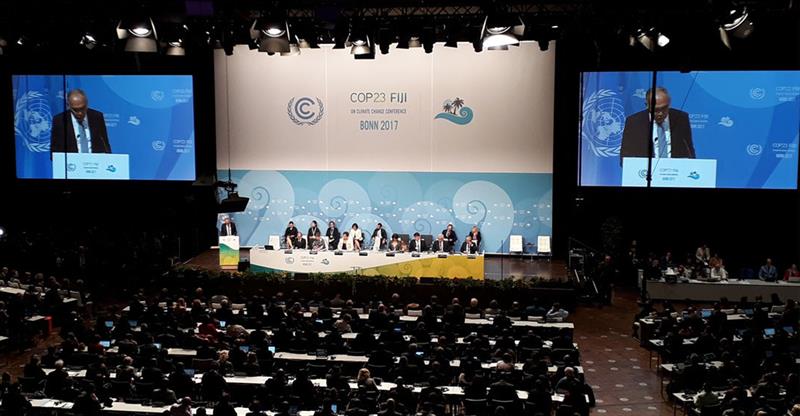 Saint Lucia's delegation is back from the 23rd Conference of Parties (COP 23) which was held in Bonn Germany from Nov. 6 – 17.
Deputy Chief Sustainable Development and Environment Officer, Dawn Pierre-Nathaniel, a member of the COP 23 delegation headed by Prime Minister Hon. Allen Chastanet, said finance, adaptation, mitigation, capacity building, technology and loss and damage were among 31 decisions on the COP 23 agenda.
"The decisions are a very difficult place to get to. I will give an example of a family of eight having to decide where they have to go for dinner, or whether they want to go to the beach, or the fair; and that is such a difficult decision where everybody has an opinion and everybody wants it their way. So juxtapose that on almost two hundred countries or parties around the world, that are all trying to decide on something by consensus; there is no voting in this process, so everything has to be agreed upon by every party. If one party disagrees then there is no consensus," she explained.
"Something that is important to note is that COP 23, similar to COP 22, was largely about putting the modalities, procedures, and rules in place for implementing the Paris Agreement that was adopted in 2015."
An important decision from the COP 23 was the Figi Momentum for Implementation, and included aspects of the Paris Agreement Rule Book, earmarked to be completed by 2018.
"There was also something called the Talanola Dialogue or the facilitative dialogue. It is about being inclusive, being participatory, and working on mutual trust, so for this dialogue, which also has to happen in 2018, we have to determine how it will be set up. We need to know where we are in the process, where we want to be and how we get there. The Talanola Dialogue will allow for assessment of the 1.5 report that was prepared by the Inter-governmental panel for Climate Change."
Mrs Nathaniel added that the prime minister was also very active in pushing and trying to get everyone to understand the plight of SIDS, and that while there is a financial mechanism under which we can access funds under the GEF, under the Green Climate Fund and now under the Adaptation Fund, that there is need for measures to be put in place to allow SIDS to access funding for immediate situations.