by Amanda-Faye Clarke, Ministry of Agriculture
MINISTRY OF AGRICULTURE ASSISTS WITH SETTLING OUTSTANDING PAYMENTS TO BANANA FARMERS.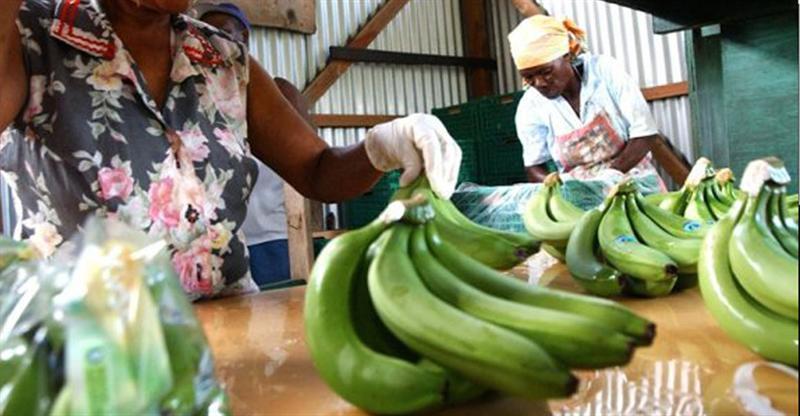 The Government of Saint Lucia through the Ministry of Agriculture has provided quick support to banana farmers amidst the current vulnerable COVID-19 environment. A cheque of 1 million dollars was officially handed over to the National Fair Trade Organisation (NFTO) this morning.
The move which comes as a response to a breach on the part of Winfresh to provide payments to farmers through the NFTO is seen as timely as agriculture officials work to address concerns by farming and agriculture constituents in keeping their livelihoods buoyant, and in securing local food sources.
Chairman of the National Fair Trade Organisation (NFTO) Eustace Monrose says he is elated by the Agriculture Ministry's assistance in settling outstanding payments to banana farmers which has been delayed for about five weeks.
"I am grateful and I have to demonstrate gratitude on behalf of the NFTO and the farming community, especially banana farmers. Government understood where farmers were- they were not able to go over to supermarkets to replenish their stock when all others were able to have done that- so this gesture is something that is really appreciated, and we are indeed grateful for this government response. Government understood and the minister really worked hard so that the farmers would have been able to get this benefit."
This is not the first time that the agriculture ministry has stepped in to prioritize the welfare of farmers where Winfresh failed to meet its obligations to the NFTO and the local banana farming community.  As Agriculture Minister Ezechiel Joseph explains, a restructuring of Winfresh is even more critical now as the industry faces additional unique challenges posed by COVID- 19.
"The advanced payment is coming from the Covis restructuring plan for the government as far as giving support to agriculture which includes our banana farmers. (If we had to wait for resources from the Government, we would not be in the situation we are in today. That means, we all know the process of getting resources from the government takes time). So, based on a discussion with the prime Minister, Minister of Finance and Cabinet we agreed that we would approach Invest St Lucia to advance the Government one million dollars in the first instance, to give some resources to our farmers, and our farmers would be able to have an enjoyable Easter."
In the coming weeks, Minister Joseph vows to engage other windward island agriculture ministers to make good on its promise to the farming community to ensure the necessary adjustments are made within Winfresh to better serve the needs of the banana industry, for which it was first commissioned.
Related Articles