by Office of the Prime Minister
THE COUNTRIES DISCUSS AGRICULTURE, INVESTMENT DURING AN OFFICIAL VISIT BY PRIME MINISTER ALLEN CHASTANET.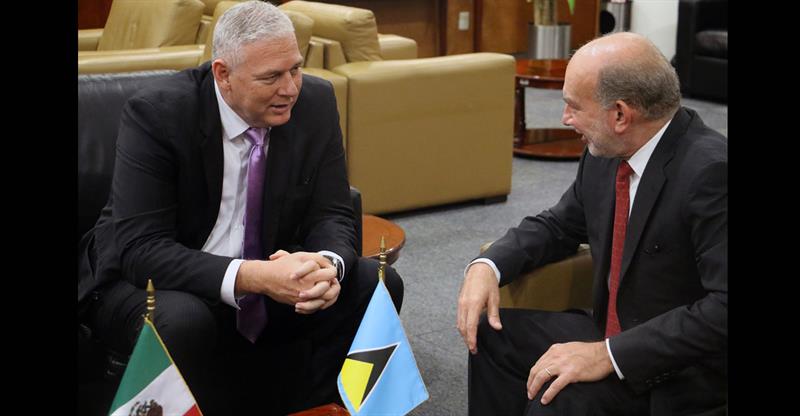 The streets of Mexico were lined with the national flags of Saint Lucia, as the host country, Mexico, warmly welcomed an official visit from Prime Minister Hon. Allen Chastanet, along with a Saint Lucian delegation.
The delegation comprised the Minister with responsibility for External Affairs, Sarah Flood-Beaubrun; Minister of Education, Innovation, Gender Relations and Sustainable Development, Dr. Gale Rigobert; Permanent Representative of Saint Lucia to the Organization of American States (OAS) Ambassador HE Anton Edmunds; and Ambassador of CARICOM, OECS and Diaspora, HE Elma Gene Isaac.
The prime minister, who is also the Minister for Finance, Economic Growth, Job Creation, External Affairs and the Public Service, has an extensive agenda while in Mexico, that includes high-level meetings in the areas of agriculture, tourism and investment.
Following his arrival on Monday, Oct. 23, Prime Minister Chastanet and the Saint Lucian delegation, met with Mexico's Ministry of Agriculture, Farming, Rural Development and Fisheries (SAGARPA). During the meeting, Mexico pledged more support towards Saint Lucia's agricultural sector and greater collaboration.
The delegation also held meetings with the Intelligence Division of the National Security Commission, Mexico's Touristic Policy Planning Unit, and Mexico's Minister of Public Education. The agenda continues with a special forum on "Opportunities of Investment in Saint Lucia" on Oct. 24.
Subsequent to the official visit, the Saint Lucian delegation will attend the Fourth Summit of Heads of State and Government of the Caribbean Community (CARICOM) and the United Mexican States in Belize City, Belize, on Oct. 25.
sponsored ad